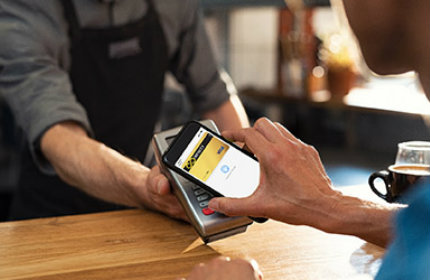 Mobile Wallet
Speed through checkout online and in-store by paying directly with your phone. Infinity Federal Credit Union (FCU) offers Apple Pay®, Samsung Pay™ and Google Pay™ to help add simplicity and security to your life. Mobile Pay is currently available with your Infinity FCU debit card; credit cards will be added at a later time.
Easy Set Up
Many devices come with a Mobile Wallet already installed, so all you'll need to do to get started is add your card information based to the app.
Use your device to make payments at participating merchant displaying the mobile payment icons below
Hold your device near the reader to complete your payment.
Follow in-app instructions to pay with your mobile wallet on your devices
Give us a call with any questions at 207-854-6000.
Shop Securely
When you use your mobile wallet, your actual card number is never shared with the merchant and isn't stored on the device. Instead, a Device Account Number is used to process your payment, further protecting your personal information.
Apple, the Apple logo are trademarks of Apple Inc., registered in the U.S. and other countries. Apple Pay and Touch ID are trademarks of Apple Inc.