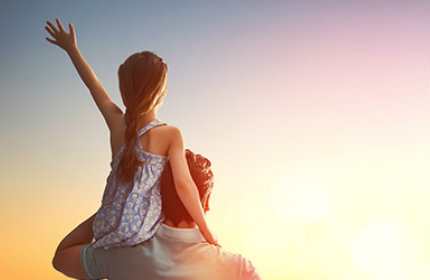 Summary
Let Infinity reward your participation. Our signature checking account offers unique benefits and pays tiered interest on your average balance up to $5,000.
Account Benefits:
Get paid up to two days ahead of your scheduled payday with Jump StartSM Direct Deposit of your net pay1
Reimbursement of Infinity FCU fees up to $10 per month2 for ATM use outside of the SURF/SUM Network
Two free Wire Transfers per month
50 free UChoose® Rewards points per month3
Earn tiered interest on your average balance up to $5,000
Overdraft Forgiveness - reverse one overdraft charge per calendar year
No minimum balance requirements
Access to online and mobile banking
Access to 250+ Surcharge-free ATMs in Maine
Convenience of 5,700+ Shared Branching locations across the country
Minimum Monthly Requirements:
Make 10-24 qualifying debit card transactions4 each month to earn 1.26% APY5 or make 25 or more qualifying debit card transactions4 each month to earn 2.53% APY5
Maintain direct deposit of your net pay into the account each month (totaling a minimum of $500.00)
Provide a valid email address
Sign up for e-statements
Register for online banking
Make switching your direct deposit easy by using our online form!
If requirements are not met during the calendar month, Infinity will assess a $5.00 service fee. You will still enjoy all the benefits of this account if the fee-free requirements are not met.
Average
Balance

# Monthly
Transactions4

Dividend Rate

APY5

0 - $5,000

0-24

1.25%

1.26%

0 - $5,000

25+

2.50%

2.53%

$5,001 and over

0-24

0.05%

0.05%

$5,001 and over

25+

0.05%

0.05%
Disclosures:
1Jump StartSM Direct Deposit: Infinity FCU will try whenever possible to advance payroll direct deposits by up to two days, the availability of funds ahead of the original scheduled pay date is not guaranteed. Funds can be made available only after they have been received from the Federal Reserve Bank. Infinity FCU members should not rely on Jump StartSM to satisfy the needs of scheduled bill or loan payments, or any other date-sensitive financial obligations. Jump StartSM advances the electronic deposit of payroll funds only and does not apply to checks. Any applicable standard check holds will still apply. To set up direct deposit of payroll funds to your Infinity FCU account, your payroll department will require: Infinity FCU's Routing Number (211288491) and the 13-digit account number (MICR) listed at the bottom of your Infinity FCU checks. You may also move your direct deposit with ClickSWITCH.
2Infinity FCU fees from out-of-network ATMs incurred during the month will be reimbursed up to $10.00 and credited to account on the last day of monthly statement cycle when minimum monthly qualifications are met.
3To earn UChoose® Rewards Points, card(s) must be registered online at www.uchooserewards.com.
4Qualifying transactions are point-of-sale purchases made in person or online. Transfers between accounts, bill payments, checks, ATM withdrawals, or pre-authorized withdrawals (i.e. gym membership) do not count towards qualifying transactions. Qualifying transactions must post and settle to account during the calendar month. Transactions may take one or more banking days from the date transaction was made to post and settle to an account.
5APY=Annual Percentage Yield. Rates are accurate as of 6/1/2021. Rates are calculated based on the average monthly balance during the statement cycle. See the table above for details. Rates may change after account is opened. Terms and conditions subject to change without notice. There is no minimum deposit to open. During the first 30 days from account opening, your account will earn 2.53% APY.